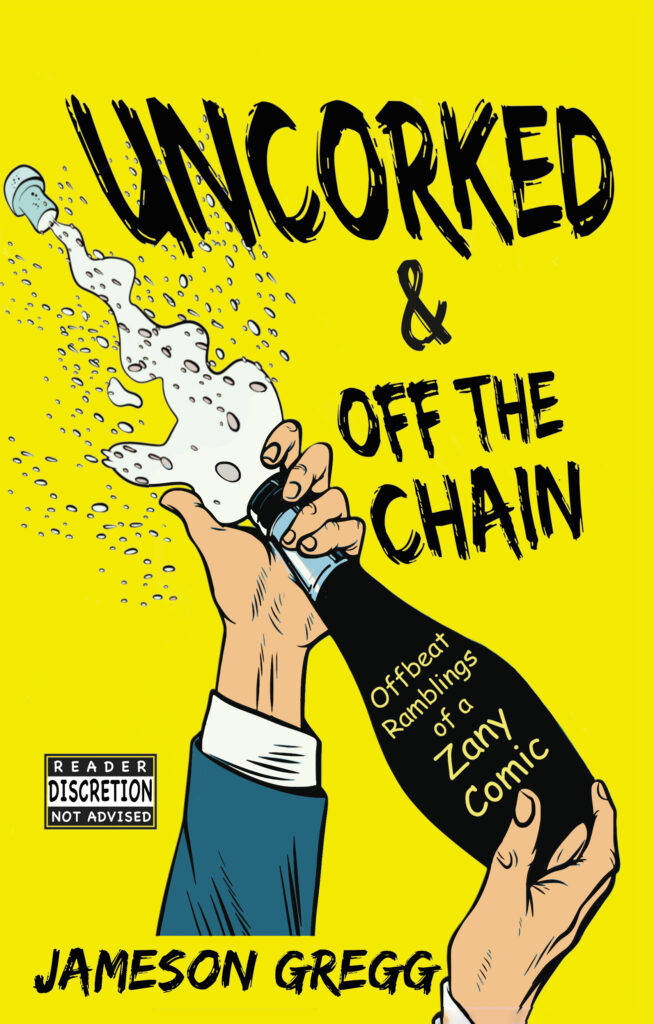 by Jameson Gregg
Uncorked & Off the Chain delivers chops and attitude with zany cutting-edge opinion, observational humor, and tales from the wild side. No topic is off-limits, from sports, gambling, and edgy tales, to marriage, dogs, and mass consumption of cocktails.
"Benefits of yoga in order of importance: 1) flatulence prompting; 2) flexibility; 3) strength. Strike the downward dog pose and you'll be breaking wind like Gandhi. Namaste!"
Jameson unveils plans for radically revamping the Olympics and pontificates on other pressing sports issues of the day.
"It slays me when a golfer hits it close to the hole and the commentator says, 'Golly, he just hit a perfect shot.' Bull****. If the ball doesn't go in the hole, it isn't the perfect shot."
He also rails against the establishment, has a keen eye for societal absurdities, and doles out sage man advice.
"Why don't we have topless bars at airports?"
Everybody loves to laugh. Uncorked & Off the Chain provides instant gratification for those looking for quick-hitting literary humor. Average entries of one to two pages fits every busy lifestyle.
Editorial Reviews
"An unrestrained grab bag of rapid-fire observations … hilarious."
"Like sitting down to a big ol' jar of mixed nuts: snips, scraps, odds, and ends from a brilliant if
slightly skewed imagination, ranging from the goofily profound to the profoundly goofy.
Reminiscent of Lewis Grizzard in one of his wackier moods."
Man Martin
Award-winning Author Of The Lemon Jell-O Syndrome And Paradise Dogs
"Jameson Gregg is one of those rare comedic geniuses who sees the world sober as others see it
after a few shots of bourbon, a Southern Jack Handey who can find humor in his own vasectomy
and offer advice on preparing for mug shots.  In Uncorked & Off the Chain, Gregg hones his
lawyerly eyes on the absurdities of daily life, sending up his friends, his wife—not since the days
of Mrs. Henny Youngman has a woman been beleaguered so—and himself.  A fun, generous
book that displays malice toward none, but mockery toward all, Gregg proves himself the
rightful heir to Twain, Thurber, and lots of other very funny people. At a moment when the
country could use some homespun good cheer, Uncorked & Off the Chain spins an insightful
and hilarious web of wit."
Jacob M. Appel
Award-winning Author Of Einstein's Beach House
"More than southern-engineered mansplaining, Uncorked & Off the Chain is chock-full of
wry observational humor that made this Yankee broad laugh. From boozy jokes about bodily
functions to adventures in dementia, reading this book will have you feeling like you're tipping a
few with your pals in Grandma's basement. The more you drink, the funnier it gets."
Linda Sands
Award-winning Author Of 3 Women Walk Into A Bar And Grand Theft Cargo
"In Uncorked & Off the Chain, Jameson Gregg shares with us his unique and funny take on all
things. From ax handles to ticks to truth in advertising, Gregg's observations on the absurdity of
modern-day life ring true. He says things you have thought, things that you wish you had said
yourself. If you are looking for a politically correct, reverent tome, look elsewhere. If you are
looking for an amusing read, this is the book for you."
Raymond L. Atkins
Award-winning Author Of South Of The Etowah
"Award-winning comic and author Jameson Gregg has blessed us once again with his hilarious
Uncorked & Off the Chain, a collection of short monologues that could have come from any of
the country's best comedy clubs.  With a unique style—a mélange that echoes bits of George
Carlin, Dave Chappelle, or a sophisticated version of Jeff Foxworthy—Gregg is at once funny
and thought-provoking.  It's a great read, and an inspiration for aspiring comics everywhere!"
William Rawlings
Award-winning Author Of Six Inches Deeper: The Disappearance Of Hellen Hanks, And The Girl With Kaleidoscope Eyes: A Novel