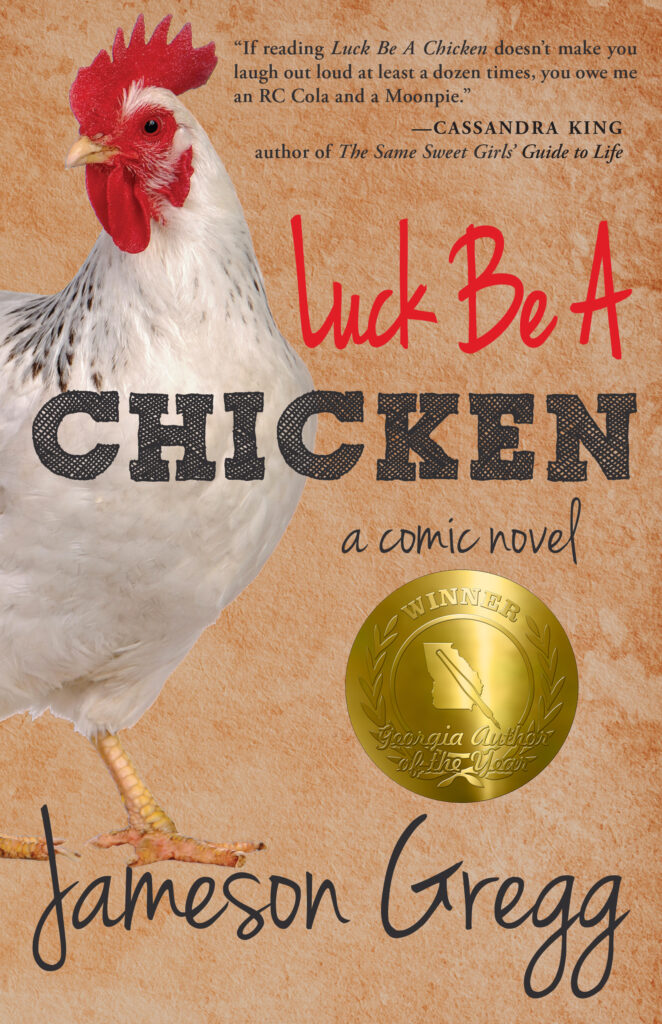 Luck Be A Chicken
by Jameson Gregg
Butterbean and Ruby Sweat are south Georgia rednecks who differentiate themselves with wit, charm and humor.
Bean is a burly good ole boy and slob extraordinaire sailing through life as a trailer park philosopher, clown prince and champion to his fellow chicken plant workers. He loves his beer, pickup, NASCAR and deer hunting. Wife Ruby styles in her leopard leotard in her unlicensed beauty parlor, Ruby's Curl Up 'N Dye, in an abandoned Airstream now attached to their singlewide. Their baby daughter, Lil' Bit, desperately needs an operation which insurance won't cover. Son Junior is a roly-poly copy of Dad.
Go to work with Bean in the chicken plant, where he holds the position of unofficial spokesman for labor, largely because he speaks English. In his hayseed vernacular, he translates company edicts into "Spanglish."
Spend a day in Ruby's beauty parlor and eavesdrop on good-natured bantering and gossip-swapping. Times are hard but country wisdom and home-spun levity help them cope.
Join Bean and Junior on opening day of deer season when Bean is named Poet Laureate of his hunt camp, "whatever that means." Suffer the rollicking misadventures of father and son in the woods as they gun for a trophy buck.
Evil and conflict loom in Bean's boss, Calvin Butler Jr., the greedy, unscrupulous, sex-crazed owner of Majestic Chicken Company. Enter Butler's seedy, drug-clouded world of wretched corporate and personal excess as it spins out of control and blackmail becomes his weapon of choice.
The flashpoint occurs when it dawns on Bean that recent "sal-vanilla" deaths in the news could be caused by an ongoing cover-up at the chicken plant. What will Bean do? Will Calvin Butler Jr. ever face true justice? Will Lil' Bit ever get her operation?
Southern Baptist forces weave through the story. Bean questions God's existence; Ruby tries to shine the light and struggles to keep her family on solid spiritual ground. Join them for a raucous service at their country church where they go to 'return thanks' for newfound blessings.
Though a satirical and comic novel at heart, the Sweats' life of generational poverty – a condition above which they will never rise – resonates in tragedy. Viewing life through the lens of humor is their ultimate salvation, at least here on Earth.
Editorial Reviews
"Luck Be A Chicken will appeal to fans of John Kennedy Toole's cult classic, A Confederacy of Dunces, but Jameson Gregg shows more empathy for his hero. Butterbean Sweat always has his family in mind when launching his capers, and their love for each other is at the heart of this picaresque novel."
George Weinstein
Author Of Hardscrabble Road And The Five Destinies Of Carlos Moreno
"In a delightful blending of Jeff Foxworthy and Damon Runyon, Luck Be A Chicken is a rollicking redneck rooster roast that really delivers."
Brian Jay Corrigan
Georgia Author Of The Year, Author Of The Phasmologist, The Poet Of Loch Ness, Playhouse Law And Carnivalaria
"With Luck Be A Chicken, author Jameson Gregg has penned a masterful work of comedy, taking the reader on a hilarious romp through rural south Georgia, a landscape populated by unforgettable characters inhabiting a world that lies on the periphery of mainstream America. Gregg's forte is his ability to skewer for the reader the little eccentricities that define each of them and their environment, from the weighty denizens of the Garden of Eden Trailer Park to the faux finery of Honeysuckle Plantation. A most enjoyable read from a most talented author!"
William Rawlings
Author Of A Killing On Ring Jaw Bluff
"NASCAR fans will enjoy this raucous tale about Butterbean Sweat, the good ole boy race fan who lives for Dale Earnhardt Jr.'s next win and idolizes Bill Elliott, a/k/a Awesome Bill from Dawsonville. I know a thing or two about Georgia rednecks and Luck Be A Chicken is on the money. Bean is in the fight of his life against his crooked boss in this well-written and fascinating story."
Gordon Pirkle
President, Georgia Racing Hall Of Fame, And Owner, Dawsonville Pool Room
"In Luck Be A Chicken, Jameson Gregg has created an original and impressive first novel. This bodes well for his career as a writer. He is quite the storyteller."
Jackie K Cooper
Author Of Memory's Mist: The View From The Journey
"I found in Luck Be A Chicken an authenticity in tone, description, and situational comedy that is seldom so charmingly displayed. The wit is reminiscent of (Mark) Twain. The writing captures the vernacular with spelling that lets the reader hear the dialect. The book is a must-read for all those who enjoyed the Jeff Foxworthy series, 'You might be a Redneck.'"
Patricia Cardona
Judge, 2015 Georgia Author Of The Year Contest, And English Instructor, Kennesaw State University