Gold Medal Winner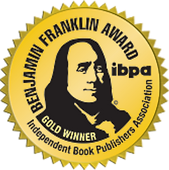 On the heels of my latest post, I'm delighted to report that Uncorked & Off the Chain: Offbeat Ramblings of a Zany Comic won the GOLD MEDAL at the 34th IBPA Benjamin Franklin Awards ceremony in Orlando on April 30, 2022. I'm especially honored in that the award is in the humor category, and is named after Benjamin Franklin who is known as America's first humorist for his clever use of wit and wisdom largely in Poor Richard's Almanack.
The Independent Books Publishers Association (IBPA) nationally leads and serves over 4100 members as the largest publishing trade association in the U.S. The Benjamin Franklin Award recognizes the best of the best nationwide and is one of the highest and most respected independent book publishing awards in the U.S.
There were over 200 people at the awards ceremony. It was like the Oscars, although no punches were thrown! When the emcee announced Uncorked as the winner, I walked to the podium with my heart pounding and my head rushing and managed to deliver an acceptance speech without passing out. My message in a nutshell: "We can all use more humor and I'm doing my part to bust the laughter drought." In the coming weeks, I will post the speech.
Thanks to IBPA and thanks to you for your support.